Customized industrial laser
Each project is unique and it is to meet each request that our engineers propose the development and integration of machines integrating industrial lasers and meeting the requirements of your specifications.
The excellent know-how of our specialists and the complementarity of their skills enable us to offer you high-tech solutions, mastering all the technical considerations (lasers, mechanics, optics, computing, automation, vision and robotics) specific to your project. ES LASER has developed invaluable know-how in the design and manufacture of customized industrial laser machines.
We will propose a personalized Laser, with an industrial design, that perfectly meets your needs.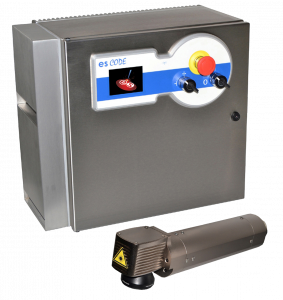 Laser welding of metals
Laser welding of plastics
Prismatic laser welding
Decoration, by laser marking, laser engraving, laser texturing, selective ablation, etc.
Laser micro-applications (cutting, welding, engraving, etc.)
Laser texturing of surfaces
3D laser engraving
Laser cutting
Laser drilling
Static 2D laser marking
Laser coding / laser marking on the fly
Our experience allows us to meet all your expectations, such as:
Adaptation to your laser application (precision, repeatability, production speed, etc.)
Integration of the laser in a complex environment (temperature, dust, etc.)
Adaptation or improvement of your tools
The development of customized Human Machine Interface
Linking your Laser system with your databases
The development of a tailor-made laser safety enclosure
The development of adaptive computing
…
All lasers developed by our engineers comply with European and International Laser and Machine Safety Standards. They also feature a user-friendly and intuitive operator interface and a powerful built-in diagnostic tool.
What is a customized laser?
A customized laser is a laser tailor-made  to meet the customer's specifications.
Many industrialists have been using laser tools for many years. Referring to their experience, they ask us to manufacture their marking laser, welding laser or others. We integrate the components you want: galvanometric head, lenses, laser sources, HMI, robot, … to obtain a unique laser dedicated to the desired application.
Who are these customized lasers made for?
These lasers are mainly developed for industrial companies thant want to standardize their machinery. Our main customers for these applications are international groups with factories around the world. We also manufacture custom lasers for OEM integrators who ask us to develop a custom laser for their machine.
Do you export customized lasers?
Yes, of course! ES LASER exports lasers all over the world. To date, we have exported to 28 countries. Our technicians also travel and provide installation, commissioning, training and maintenance.